The special edition of "USA vs Al-Arian" is distributed by
Kudos Family
, and is now available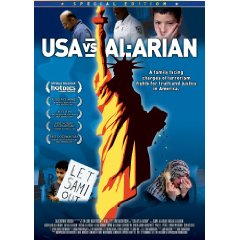 on
amazon.com
in NTSC and PAL. The new DVD is available with English, Spanish, French, German, Italian and Arabic subtitles, and includes 1h 52 min with bonus material.
Order your copy here http://www.amazon.com/shops/kudosfamily
BONUS MATERIAL: Commentary by director Line Halvorsen, Leena Al-Arian, Abdullah Al-Arian and producer Jan Dalchow – USA vs Al-Arian, short version (52 min) – Featurette: What happened after the sentencing (2006-2009) – Interview: Sami Al-Arian, Orient Road Jail, Feb 2006 – Short: Look For Me – The Children of Gaza (dir. Tone Andersen) – Interview with Laila Al-Arian, Democracy Now! September 2008.
More info http://www.usavsalarian.com/